The creator of many best-selling resources like Instant MLM Sales Letters and the Online Prospecting Secrets Home Study Program, co-creator of breakthrough systems like Webinar Secrets, Outsourcing Secrets Exposed and producer of Government Contract Secrets…Chris Zavadowski, president of Lifetime Marketing Success, Inc., has helped tens of thousands of people around the world build their businesses on autopilot with his direct response marketing systems.
He's shared the stage with top marketers like Yanik Silver, Ryan Deiss, Armand Morin, Marlon Sanders and more. Chris is also a regular contributor to "The Net Reporter" and the MLMU teleclass program. You can find Chris' marketing systems and materials being regularly spotlighted at every single one of the sold-out Underground Online Marketing Seminars – where he was also most recently a featured speaker two times. And his promotion methods were recently highlighted by Glazer-Kennedy Insider's Circle.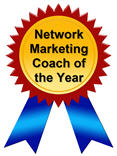 Chris was recently named "Coach of the Year" in one of his industries — the very first recipient of the award. And his materials have been endorsed by the "who's who" of online marketing: Yanik Silver, John Reese, Mike Filsaime, Tom Beal, Jeff Walker, John Carlton, Ryan Deiss, Stephen Pierce, Armand Morin, Jason Potash, Ed Dale, Rich Schefren, Jeff Mulligan, Jeff Johnson, James Grandstaff, Daegan Smith, Jerry Clark, Jack Zufelt, and many others.


You can find him featured as the Internet marketing contributor in The Ultimate Guide to Network Marketing, available at Amazon.com, Barnes and Noble, and any other major book stores.
And Chris Zavadowski is also a strong believer in giving back to the community. Each year he and his company donate tens of thousands of dollars to a wide variety of charities and non-profit organizations like Susan G. Komen for the Cure, the Leukemia-Lymphoma Society, the John F. Kennedy Center for the Performing Arts, Collaborative Arts Project 21, Freedom from Hunger, the USO, scholarship funds and many other important causes!
Based in the Washington, D.C. area, and with two degrees from Virginia Tech University, Chris is also very active in the arts — he is currently working as Associate Producer on the upcoming Broadway production of Stephen Schwartz's Children of Eden. For more details, visit ChrisZavadowski.com.
You can also connect with Chris on Google+: